In Printers page in Microsoft Dynamics 365 Business Central you'll find all shared printers from 365 business Print Agent services.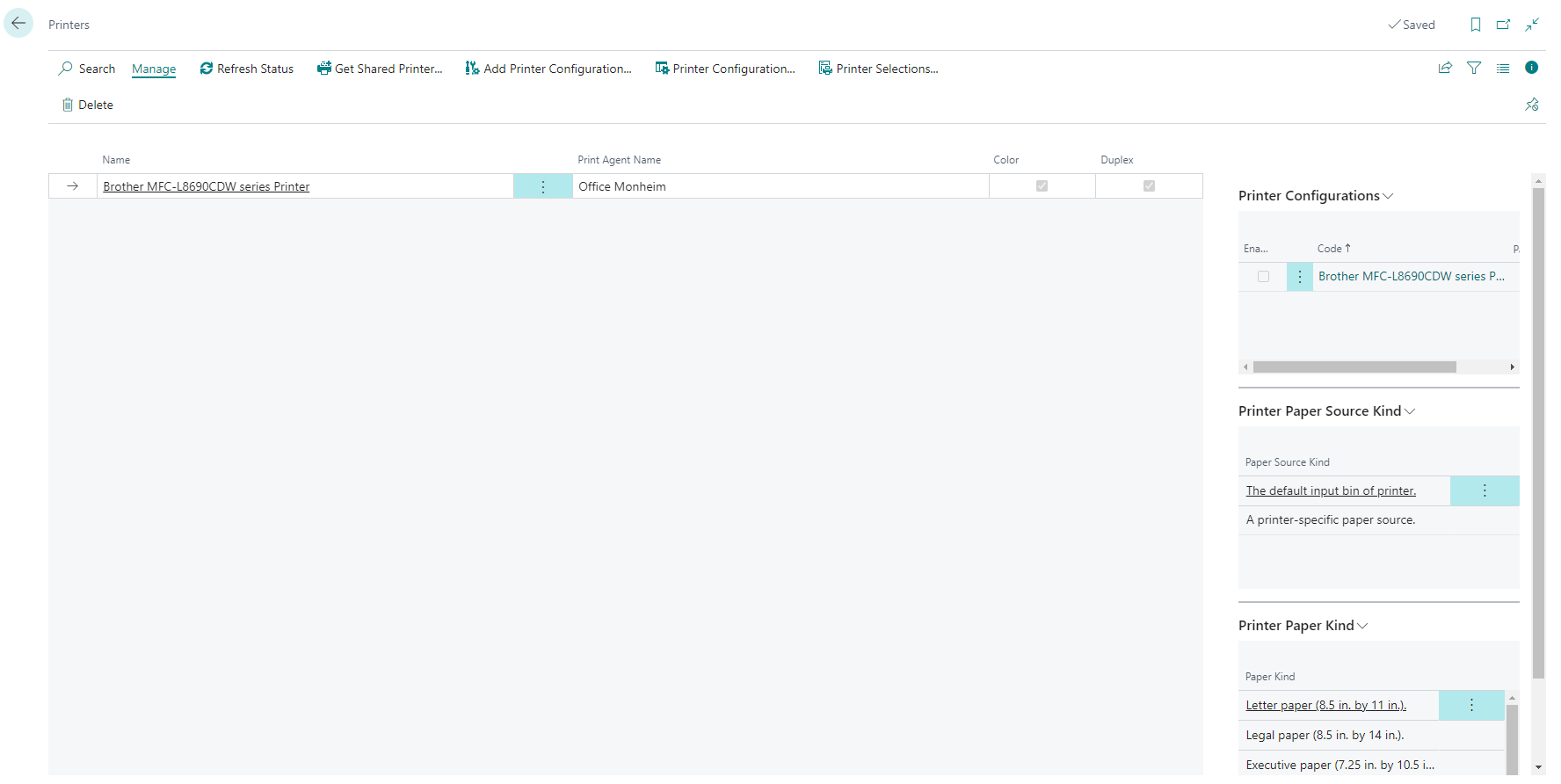 Shared printers are not directly usable for users in Microsoft Dynamics 365 Business Central. Instead it's necessary to create Printer Configurations, which will be assigned in Printer Selection or selected in Report Request Page. You can create multiple printer configurations based on the capabilities you want to use in a specific scenario (e.g. duplex-mode).
For each printer a default printer configuration is automatically created. This configuration is created with the available features of your printer.
Which printers are supported?
Print Agent is supporting every printer with Microsoft Windows compatible drivers or printer software. Additionally Print Agent is supporting native Zebra (ZPL) emulation to communicate with Zebra printers using native ZPL commands, instead of PDF printing.
Remarks:Sharing network printers in 365 business Print Agent may cause timeouts as the actual printer takes longer to respond. This is a common problem with Windows printer management and cannot be solved by 365 business Print Agent.

We strongly recommend installing 365 business Print Agent directly on print servers to share locally installed printers instead of sharing printers from a remote print server.
How do I enable ZPL emulation for printers?
In Print Agent service application, installed on your printer server, you find a list of all currently installed printers. In column Emulation you can specify Zebra (ZPL) instead of Default to use PDF to ZPL conversion and communicate with the Zebra printer using native ZPL commands.
How do I know my printers are available?
Due to maintenance, software updates or incidents shared printers may not be available at a specific situation. The Printers page decorates offline printers so that the administrator can easily determine if a particular printer is unavailable.

Additionally the Print Agents page in Microsoft Dynamics 365 Business Central shows a list of all registered Print Agent Services and there online status.
See also